Litter 2015 with their new family
Another successful breeding for Aidan Resonating Light and Summer's Inspiring Spot.  All the 8 puppies out of the 9 puppies went to their respective family ( I kept one – Sauvigon).  To all the new families of our 2015 Collie puppies, I know without any doubts in my mind that you will all give the love and attention that these puppies deserves.  They are all a joy and with much confidence on my part, you will all be happy that you got your collie puppies from Frandelhi's Collie.  I am thankful to you all.  Keep us updated with pictures and achievements and I will be happy to add them all here.
Daisy Mae – Dennis Jones (Newark-Delaware)
Heather – Lynda Terry (Maryland)
Sauterne/Jasper – Jana Lashmit (Frederick, Maryland)
Latest news for Jasper:      Just a quick update to let you know everything is going fine with Jasper.  He and Ruby are best friends now, they love to run (he's almost as fast as she is now!) and will play together for hours.
  Some very good news – Jasper passed his Canine Good Citizen test yesterday!  He's so well behaved for only being six months old.  Hope all is going well with you and your dogs!
Lassie – Brock Johnson (Maryland)
Daphne – Claire Colebrook  (Pennsylvania)
Syrah/Scout – Valerian Choate (Washington DC)
Latest on Scout : A gentle nibble/smelling of the owner's stepfather shirt symbolizing a a true symbol of care. This picture has a nice composition and patterns (couch cover, lamp, painting on wall and both figures).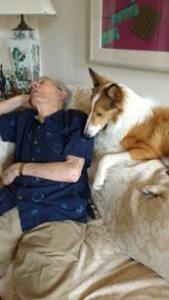 Raphael/Baxter – Risa and Dave Altman (Pennsylvania)
Update on Baxter : Baxter has adjusted very well to his brother Cooper.  He is a wonderful and loving dog. We enjoy him immensely.  Here he is with Cooper.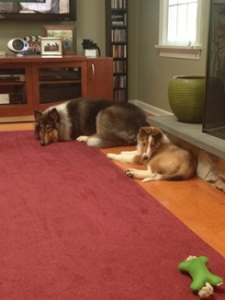 Chantilly – Christiana Lauer (Philadelphia, Pa)