As we head to Maturity
Let's take a look at how these puppies are after a year and also what their new parents can say about them.
"Frandelhi Mason's High Roar" (MASON)
Hilario Family – We kept mason out of the 8 puppies and I can honestly say, he is one big monster.  Eats like there is no tomorrow but action wise or being active, he tops them all.  As a result of his being so active< I have to change our backyard fence as he really made a hole on it just to be able to explore the outside world.  I must say, he is one curious dog that wants to see what is going on, in and out of the property.  The good thing about it, he knows his boundary or limit.  One handsome boy and I am pretty sure will be a great stud someday.
Jack – Janice DeHaven and Family
Here is my boy Jack, he is 1 year old now and the most amazing dog.  love him so much.  He is such a happy dog.  Very protective of his people.  He is super smart.  My other dog Audrey is a rescue dog out of Kentucky.  Wonderful dog but did not know how to play.  Jack, my amazing collie taught her how to play.  They have been best friends from day one.  Jack is very sensitive to our feelings.  He greets us each morning and leaves no one out.  He is a bit of a ham.  Loves attention from everyone, even people we don't know he wants attention from.  He loves being told how handsome he is.  Responds well to commands and learns quickly.  He does like to chew on material and so we have to keep eye on him.  All in all, he is a great dog, best friend, companion and the love of my life.  Thank you Francisfor this great dog.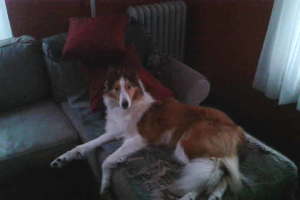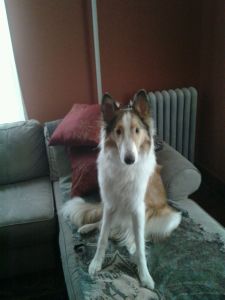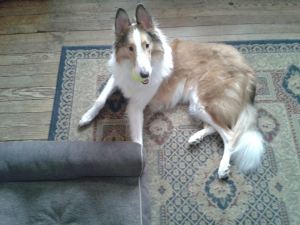 Layla Brioche – Lynda
Brie is very gentle and even tempered. She is well trained on lease and will begin off lease training and possible herding in the spring. Brie has many friends at the park whom she plays with and herds every weekend.  She is very fast so she runs free and in pace with Patrick (irish setter), Bear, Sandi and Ssadie (goldens), Percy and Teddy (poodle-spaniel mix).  She is respected and loved by all.  She is about 24 inches at the shoulder and broad at the hips.  She is a female lassie with a black diamond marking on her tail.  similar to her mum and dad, when she gets excited and happy, she flattens her ears back and wiggles her body.  She can eviscerate any toy, chew any eye glasses left on the desk, leather gloves, collars or leases (even while wearing) if left on her own or she finds me talking to a neighbor while on a walk so I am being trained to be careful.  She will run after and retrieve balls and loves to intervene when her friends squeaky balls come her way.  She would rather not get into a car or go for a drive.  AND her most favorite time is early morning and late evening walks when the air is cold and the sky is full.  She is a joy to have around.
Ava – Janice Holt
She is now a year old!  Yes she is!  Everyone loves her and says how gentle and calm for being a puppy!  We have been working hard on training her and taking her to puppy classes over the past year!  She is just wonderful!  The kids adore her and she has to greet everyone that comes to our door.  Thank you again for giving us the precious gift – Ava!!! She has been a wonderful blessing.
Angel – Guenther-Misuna Family
Since day one Angel won our hearts.  She loves to play outside and run in the park.  She is too curious and enjoys being outside watching everything around her.  She is smart and learns quickly.  At times if we are not watching she can be mischievous, chew a shoE, pillow or anything left unattended.  Needless to say she gets lots of bones to keep her busy and out of trouble.  We are grateful and Blessed she picked us to come home too.  Thank you!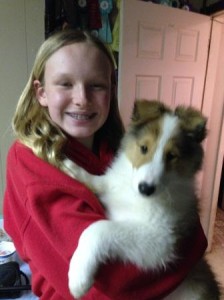 Lev (Oliver) – Vera Guertler and her daughter Harmony

It has been one year since Lev became part of our family.  Besides his deep throat bark, his single most distinguishing feature is his exuberance. He never tires of greeting us each time we return from school or work, as if we'd been gone on a long journey. He is also more excited about the game of fetch than a toddler on as swing.
In expectation of a treat, he has mastered commands in Ukrainian, no less, to sit and offer a paw, as well as to lay down. While he always draws comments at dogparks about his collie coat and wicked speed, it is his unconditional affection that has brought our family together.
In the beginning we had our share of adjustments and even wondered if we'd bitten off more than we could chew. This was especially true when Lev, which means lion in Ukrainian, chewed and soiled every type of bedding in his crate for many months.  Despite walks and "talks," he proceeded to devour sofa pillows, deck posts, sneakers, and even an X-Box cord.
As of this writing, he has been chew-free for nearly 3 months, and the only quirky behavior we are left to contend with is his absolute phobia of stairs. He will not climb for love or money, food or begging (on our part). I do not know if anyone else has had this experience….Although it is a challenge to carry a 50lb+ dog up/down stairs, Lev can light up a room even on a gloomy day.
Chase one's Dream (Chase) with Amber  
Our Chase was named well…….he loves to play! And if you don't leash him he will indeed make you "chase" him! He loves everyone including our cats ( I'm not sure they all feel the same although our cat Cookie really likes to be in his company, it's so cute watching them try to play). Chases' favorite person to play with is our 2 year old, they love to play ball and cars and just running around together!
Chase has gotten to be such a big boy and has a good appetite. Chase also loves to eat and chew on any kind of material but is getting better. He has trained beautifully and loves his evening walks but doesn't care for car rides or having his nails clipped. He is the perfect pet and friend and we all just love him so and are lucky to have him!